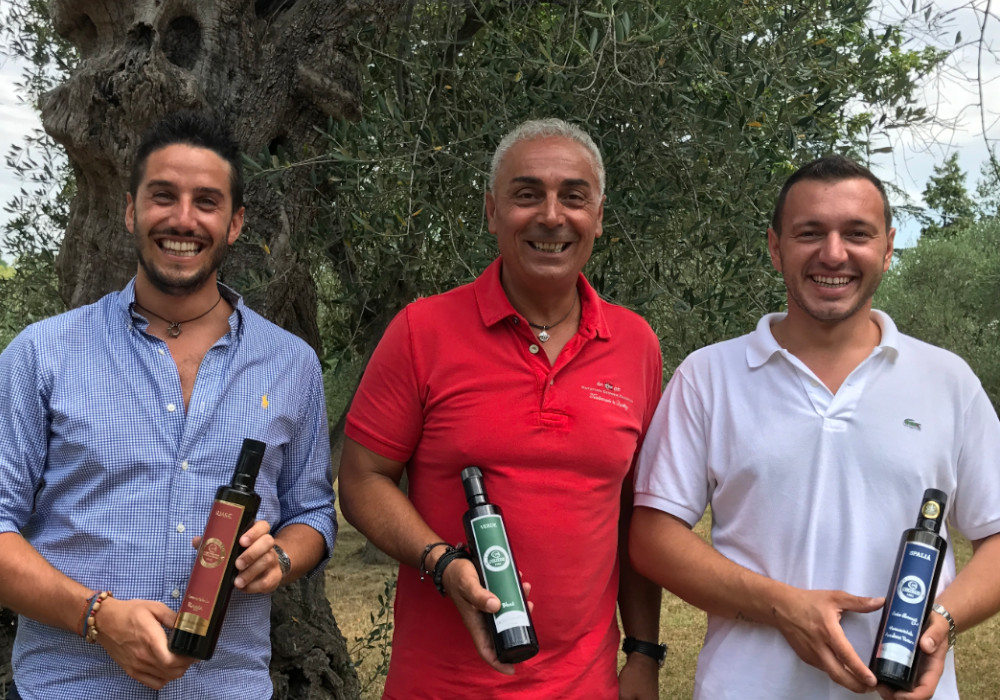 Federico Pandolfi and L'Olivaio: history of excellence from Marche
Published from Redazione Best Of The Apps
"The oil in the veins" and a lot of passion: this is what it takes to make the olive grower according to Federico. Let's find out more about L'Olivaio in this interview.
We interviewed Federico Pandolfi, a young member of L'Olivaio . It is a small company located in the heart of the Marche region. Its olive groves ideally embrace the entire region. In fact, the olives, from ascolana tenera to raggia, grow in Castelleone di Suasa (AN), Ostra Vetere (AN), Cupramontana (AN), Ostra (AN) and Offida (AP).
We asked ourselves: what is it that leads a young man to become so passionate about the land, its fruits, and in particular about the job of an olive grower? Federico answered with pleasure telling us where his passion comes from: perhaps from the oil that "flows through his veins".
Best Of The Apps:
Can you tell us the story of L'Olivaio? What makes this company so special?
---
Federico:
L'Olivaio was founded in 1962 by the grandfather of its business partner Valter Cestini. From there it was handed down to Valter's father and Valter himself. Finally in 2016 the new L'Olivaio was founded with me and another partner Davide Morganti. I think our "success" is simply due to great passion we have towards our work, combined with the correct knowledge and 56-year experience of our company. We follow the whole supply chain scrupulously, from the management of the olive groves to harvesting and milling.
---
Best Of The Apps :
Why did you choose this profession?
---
Federico:
To tell you the truth I started as a customer of L'Olivaio , before I was doing something completely different. I have "peasant" origins and as my partner Valter says "if you have oil in your blood you will come out sooner or later" and probably that´s what it was. I mainly follow the sales and customer service sector of the company, dealing with customer relationships between the company and restaurants, wine shops, including organised tastings and visits to the company.
In general, I am a lover of good and wholesome food and of all that mother nature can offer us at its best. I think I would like to broaden my knowledge of quality raw materials. There are many other sensational products such as wine, bread, pasta and coffee that deserve to be known.
---
Best Of The Apps:
What is your company´s flagship product?
---
Federico:
Surely our Monovarietale di ascolana tenera is the one that most excites and amazes the public with its hint of green tomato. I also do consider our Monovarietale raggia as a star here, no less. It is a native variety of the province of Ancona with its taste of green almond. However, out of 5 oils produced I like to think of having "5 stars" instead of one in particular.
---
Best Of The Apps:
Have you thought about particular initiatives for Christmas?
---
Federico:
Christmas is the period immediately following the oil production, between production and marketing of the new oil we do not have time or means to think about particular initiatives. However, we have designed unique and exclusive gift packages.
---
Best Of The Apps:
What experience do you offer to those who want to take a guided tour of the company?
---
Federico:
The guided tour provides a detailed explanation of the whole procedure of processing olives from olive to oil. We end it with the tasting of all our oils and finally – if there is an opportunity – even with a good glass of wine, also produced in Castelleone di Suasa.
---
Best Of The Apps:
What are the goals of the company? Do you have any new projects in the pipeline?
---
Federico:
I'd better not open my drawer of projects. There are so many of them in there but I do not want to reveal any at the moment.
---
Best Of The Apps:
Based on your personal experience, would you recommend taking this path in the world of olive growing?
---
Federico:
You need a lot of passion and it's just the starting point! The goals are distant but with sacrifice and willpower you can achieve them.
---
Best Of The Apps:
Where can we come to see you?
---
Federico:
The mill is located in Castellone di Suasa (AN) in Via Case Nuove 25.