Frà Evaristo organic EV olive oil
Extra virgin olive oil.
Blend with dominant cultivar: Leccino and Raggiola.
At its opening it presents ample notes of savouriness and thistle on the nose. It then reaches fruitiness of kiwi up to fresh pome fruits. There is an elegant input of flavours that range from the initial sweetness to a pleasant bitterness first and then to a spicy sensation.
SIMILAR PRODUCTS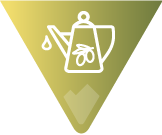 Agresto – aceto dolce a base di mosto
from Producer La Bona Usanza
17.9 €
Generalmente spedito in 24 ore
VIEW PRODUCT
OTHER PRODUCTS FROM THE SAME MANUFACTURER