Verde EV olive oil
L'Olivaio Frantoio Oleario
PGI Blend from Marche, cultivar: frantoio, leccino and pendolino.
VERDE is a blend, medium light fruity, with a prevailing hint of fresh almonds and light sensations of grass and artichoke. On the palate, it has a medium light level of bitter and spicy. The content of polyphenols is excellent.
Food Pairings: white meat, fish, boiled vegetables, salads, pasta with light sauces. In general, on delicate dishes.
Available in bottles of 0.10 l, 0.25 l, 0.5 l, 3 l.
SIMILAR PRODUCTS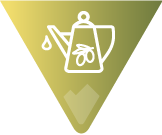 Olio extra vergine Biologico 75cl
from Producer Agrituristica Olivicola Biologica Conca d'Oro
17.95 €
VIEW PRODUCT
OTHER PRODUCTS FROM THE SAME MANUFACTURER