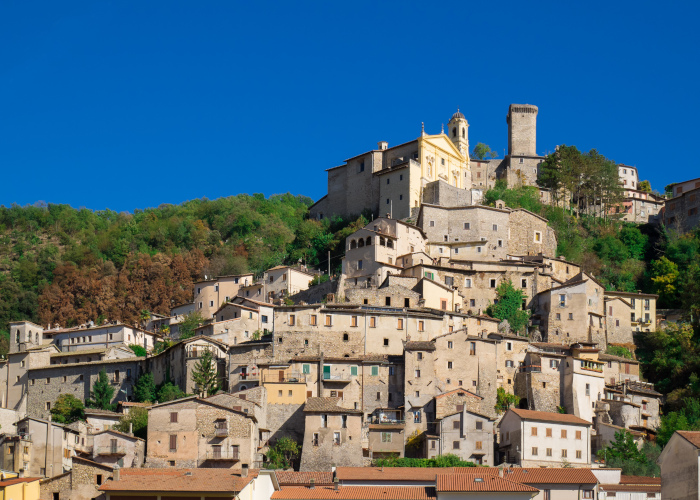 Cantalice
Pubblicato da Redazione Best Of The Apps
Cata and Ilex: under the holm oak. This is the origin of the name Cantalice. The first evidence of this place comes from 1081, therefore presumably it is of late Roman origin. It seems that leaning against a white rock, behind a sacristy of one of the main churches, a holm oak plant was growing luxuriantly.
Cantalice dominates the plain of Rieti, in the territory of Sabina, and stands at the foot of Mount Terminillo. When you approach the village, you immediately understand its historical function. After many raids by the Saracens, the centres of Rocchetta, Rocca di Sopra and Rocca di Sotto joined Cantalice creating a single reinforced centre difficult to besiege.
When making your way to the centre, it is impossible not to notice the grand staircase (350 steps!). Just catch your breath and follow it while admiring the stone houses and narrow streets, fountains, and even the narrow alleys that suddenly arrive at open spaces.
On top, in the highest point of the village, you can find the Church of San Felice da Cantalice which overlooks the town along with Torre del Cassero. The church is in baroque style and was erected in the exact place where the house of the saint in question was located. Other places of interest are the Palazzo Ramacogi and the Church of Santa Maria. The latter is located about halfway up the great staircase and was raised to celebrate the union of the above mentioned villages.
Once you have admired the ancient village of Cantalice, we recommend taking a walk in the natural reserve of the Lakes Lungo and Ripasottile, where you can practice bird watching. Alternatively, you can take one of the many routes that pass through the town centre such as the one leading to Leonessa and the San Francesco Walk.
As for the gastronomic specialities, the strangozze are typical of Cantalice. It is a type of puff pastry that has the shape of shoelaces or the strings used during the clashes with the Papal State to strangle the priests. Another name which this pasta is known for derives from this anecdote : strozzapreti.