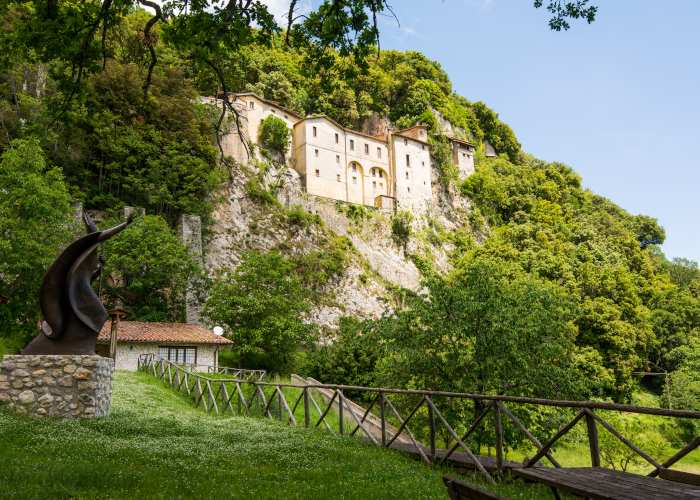 Greccio
Pubblicato da Redazione Best Of The Apps
Greccio is an ancient medieval village located 18 kilometres from Rieti, in the heart of Lazio. This place has a typical structure of a fortified castrum of Roman origin since there are still traces of the preserved castle built in the eleventh century. It is located about 705 meters above sea level, on the slopes of Mount Lacerone.
This small village, immersed in a thick holm oak forest, became famous for the San Francesco Walk in 1223. The saint chose this place for the first re-enactment of the nativity play making Greccio the "Franciscan Bethlehem". In addition to the Franciscan Sanctuary of Greccio (see picture) and the Museum of the Nativity, you can admire the seventeenth-century bell tower, the church of San Michele Arcangelo and the baroque S. Maria del Giglio.
A series of frescoes and artistic works related to the theme of the nativity and the nativity scene painted on the walls of the houses could be of particular interest to visitors. They are on the way called Sentiero degli Artisti. It starts from the International Museum of the Nativity and winds through the streets of the historic centre. This itinerary, realized thanks to a project launched in 2011, has works by internationally renowned contemporary artists such as Giuliano Ottaviani, Grace Ramos, who is a director of the Academy of Fine Arts of Salvador Bahia in Brazil, Iraqi Ali Al Jabir, French Gerard, Zha, Tao Jung Mose, William Tode, Bernardi, Di Gaetano, Mattei, Di Sisto, Valan, Eramo, Riccoboni, Greco and Bigioni.