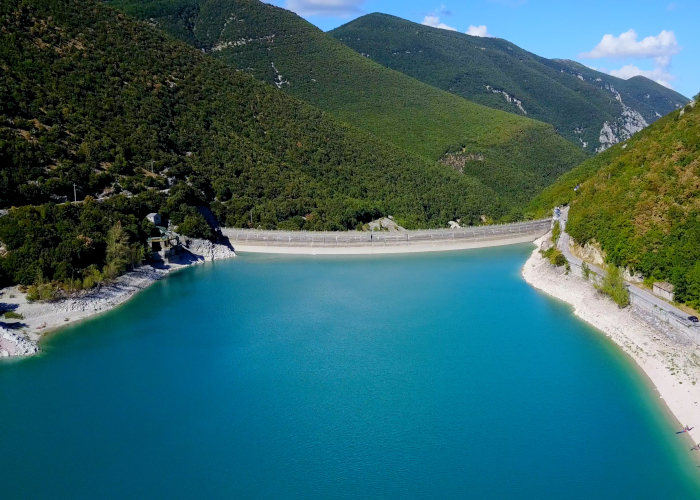 Lake Fiastra
Pubblicato da Redazione Best Of The Apps
If you are looking for a quiet place, surrounded by greenery, rich in nature trails but you have no intention of giving up on a summer bath in clear waters, Lake Fiastra is for you.
It is an artificial lake located in the Sibillini Mountains at 685 meters above sea level. It was founded in 1955 when it was decided to divert the river Fiastrone with a dam, exploiting the power of its waters to create electricity.
Spread over 2 square kilometres, the lake offers visitors various attractions and activities. As mentioned before, the waters of Lake Fiastra are particularly clear so that you can see the shoals of fish that splash around. For lovers of baths and relaxation there are several beaches on which to stretch out to sunbathe, especially on the right side of the lake, which is characterized by softer banks than those steeper ones on the left side. The most famous beach is undoubtedly in San Lorenzo al Lago. There is also a camping site nearby.
For those who do not want to relax on the beaches, Lake Fiastra offers several alternatives: water sports such as sailing or canoeing. You can also rent a pedal boat; there is Nordic walking, running, fishing, possibility of hiking and mountain biking.
We recommend reaching il Belvedere la Ruffella, a vantage point from which you can admire the view of the entire Lake Fiastra, from the dike to the left up to its opposite edge. You can reach that point on foot or by car. Just near the dam there is a path to get to le Lame Rosse, the layers of red rock with iron covering its superficial parts. Those adventurous enough who decide to visit this place will feel as if they were exploring the Martian landscape!