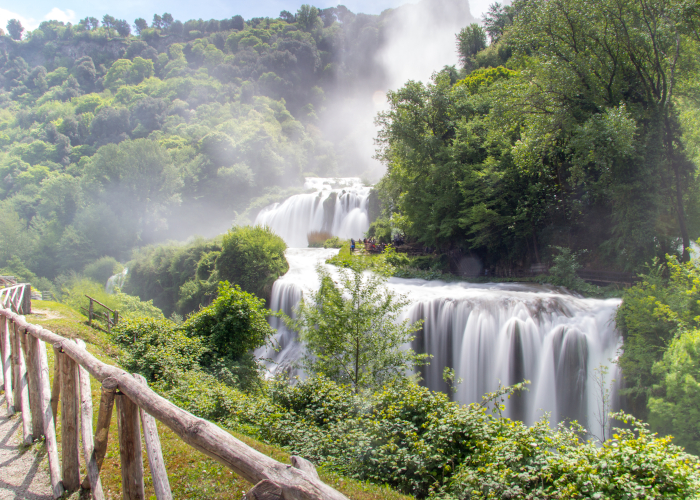 The Marmore's Falls
Pubblicato da Redazione Best Of The Apps
One of the most beautiful sights in Umbria and central Italy is certainly that of the Marmore Falls. With three jumps and 165 meters in height, they are among the highest waterfalls in Europe and they are able to enchant many visitors who arrive each year to the Nera River Park.
Right from the Nera river the Marmore Falls were born in 271 BC, starting with a reclamation of some swampy areas. Curio Dentato, an ingenious Roman consul, decided to collect the stagnant waters of the Velino river and connect them to the Nera river. Over the centuries, several water engineers modified the appearance of the falls. They obtained their current form, complete with three jumps, in 1787.
Before they reached the majestic appearance that distinguishes them from others, the Marmore Falls have been described and celebrated by painters and poets. The first to speak of it was Virgil, then Dante. They were consecrated by the words of the English poet Lord Byron:
Look! Where it comes like an eternity,
as if to sweep down all things in its track,
charming the eye with dread, a matchless cataract
horribly beautiful!
As far as the name is concerned, it seems that "Marmore" refers to marble: the rocks below the cascades are in fact rich in calcium carbonate salts with white reflections if illuminated by the light of the sun … what a view!
It is possible to admire the beauty of the falls from the lower belvedere with an overall view of the three jumps or from the upper belvedere which is very close to the first jump. In addition to the trails that wind through the waterfalls between mosses and ferns, Parco Fluviale del Nera is full of other paths that lead you into the natural environment among hornbeams and holm oaks.
The two most particular places from which to observe the majesty- Marmore Falls are la Specola and il Balcone degli Innamorati (Lovers´ Balcony). La Specola is a loggia, built near the place where the intellectuals of the Grand Tour admired the view. It is here that under certain atmospheric conditions it is possible to see a rainbow suspended over the water. Il Balcone degli Innamorati is a small terrace placed under the first jump: you find yourself behind a "veil" of water that, if touched, transmits all the power of the river Velino.