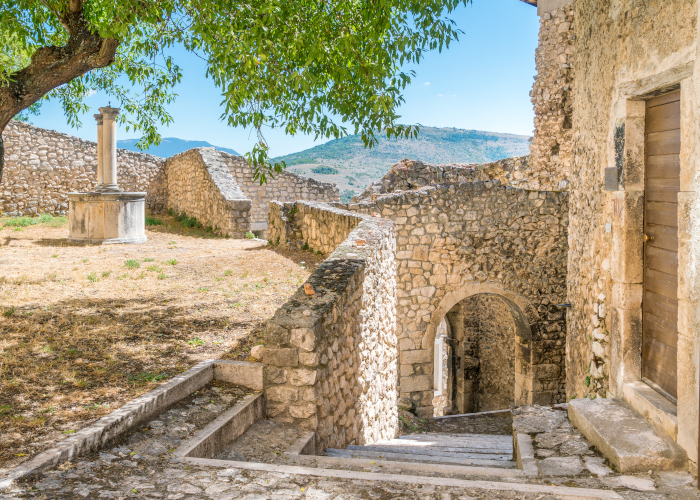 Navelli
Pubblicato da Redazione Best Of The Apps
When speaking of Navelli, one immediately thinks of many windows that seem to observe the visitor as they approach the area. The centre is located in the middle of a plain that takes its name from Navelli and is between L'Aquila and Sulmona. A historic sheep track also passes through this valley. It is an ancient "via dei pastori" (shepherds´ way), who from Abruzzo moved to Puglia with the flocks, passing through Majella.
When you arrive at the rocky ridge on which the village stands, at its entrance the history of Navelli can be read on the walls of the houses. For example, you may pass under a brick arch that connects two buildings on opposite sides of the road. In recent centuries, some families used them to move faster and probably to get more space. Walking through the streets of Navelli, it seems as if time has stopped or that in any case it has left its clear sign. You notice the blackened walls where once the baker of the village was. You can see old shops of blacksmiths or wool spinners and cellars in which the must was worked. In the historical centre of the village there are other signs that refer to the past of Navelli and its rural history. Let's talk about the three circular stone basins called "pilucce". They were the mangers that had to be filled with hay for the animals that were coming back from working the fields.
Navelli, however, does not have only the peasant tradition but also refined architectural details and the vestiges of an illustrious past. In the intertwined alleys you can see some steps carved in a rock by hand. There are also actual hands carved in stone that indicate the way to follow. You arrived at Palazzo Santucci, which stands on top of the village, on the ruins of a medieval fortress: inside the palace there is a lovely courtyard and a loggia with round arches.
The name "Santucci" is also linked to the red gold of Navelli – saffron imported by the Dominican monk Santucci when he was returning from Spain in 1230. The precious pistils were cared for and planted on the plain. These days if you are passing through the village in the months of October and November, you can witness the flowering of saffron, which cloaks the valley with its typical smell and its violet colour ready to be harvested, dried and exported all over the world!