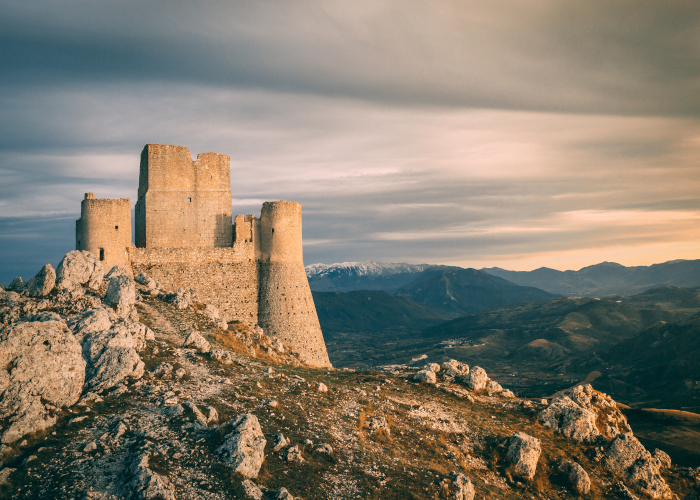 Rocca Calascio
Pubblicato da Redazione Best Of The Apps
In the Gran Sasso and Monti della Laga National Park, among the many villages and evocative places, there is a fortress that some of you might remember having seen in the films: Ladyhawke and The Name of the Rose.
It is Rocca Calascio, located in the municipality of the same name, at a height of 1460 meters above sea level. It is one of the "highest" castles in Italy, as well as one of the fifteen most beautiful castles in the world according to National Geographic!
The fortress was erected to monitor what today is the Tirino valley and the Navelli plateau, probably of the will of King Normanno Ruggero D'Altavilla. The original structure was the middle part, enriched in successive eras by adding walls and a tower for each of the four corners. The entire fortress was built of very white stone with squared ashlars. This contrasts with the surrounding barren landscape. Access to Rocca Calascio was via a retractable bridge, exposed to the east.
Positioned in a land with a high seismic risk, the fortress suffered several damages over the centuries due to the earthquakes that hit it. However, thanks to a series of restorations carried out between 1986 and 1989, Rocca Calascio is now accessible to the public and can be visited free of charge.
Heading downstream towards Santo Stefano di Sessanio, you will find an octagonal church: Santa Maria della Pietà. If you stop in front of the temple, built by local pastors in the sixteenth century as an ex voto, you can enjoy an extraordinary view: you can see the Gran Sasso in the distance.
Every season is great to visit Rocca Calascio but visiting it in late autumn or winter means enjoying a unique show. The snow in the valleys, which silently accompanies the whiteness of the stone: a hushed landscape, silent, still in time.