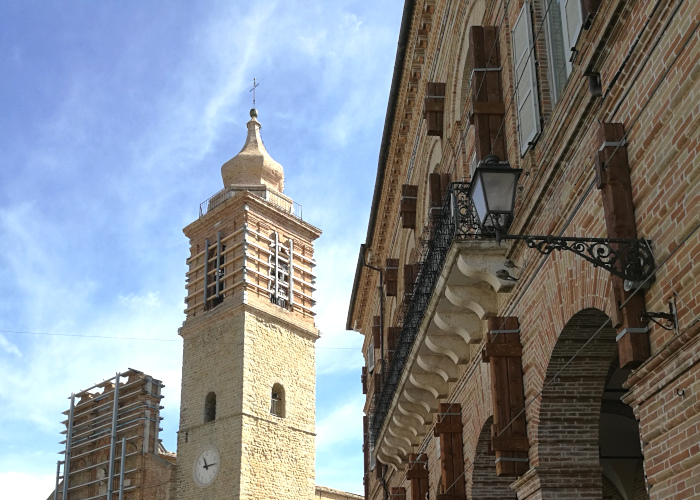 San Ginesio
Pubblicato da Redazione Best Of The Apps
San Ginesio is enclosed in the embrace of its walls surmounted by mighty towers. While walking through its streets, it is impossible not to notice the green hills and the "blue mountains" that surround the village. From time to time, in fact, there is a belvedere from which to look out and admire the stupendous panorama. The view is so particular that it deserves the title of " balcony of the Sibillini " in San Ginesio.
The history of the town is strongly linked to the Saint from whom it takes its name. Ginesio was a Roman mime and musician who lived during the reign of emperor Diocletian. In his performances he was mocking the new Christian cult; this was until he converted to it which led to him being prosecuted and finally beheaded.
This Saint´s histrionics pervade not only the history of the place but also the city walls. He can be noticed depicted in the municipal seals, in the paintings and miniatures of medieval times and also in the panels and in the ornaments of La Collegiata: the true jewel of San Ginesio.
La Collegiata is the main church and it overlooks the main square of this beautiful village. The chapels of the church also contain treasures like the paintings by famous Mannerist painters: from Federico Zuccari or Pomarancio to the "Last Supper" by De Magistris. Moreover, the facade of the church is a true Gothic masterpiece combined with the Romanesque tradition with a mixture of terracotta tiles and other fine decorations. However, the most interesting and mysterious aspect of la Collegiata is a legend according to which inside this very church the remains of Pipino Il Breve, king of the Franks and father of Charlemagne, are kept.
Various figures from different historical periods are linked to San Ginesio. There is for instance the figure of Alberico Gentili (1552-1608), a distinguished jurist of international law who became a professor at the University of Oxford. His figure in stone stands in the centre of the village square since the town wanted to pay homage to one of its most illustrious citizens.
Leaving the walls of the town, which possesses " Orange flag " for its excellent tourist and environmental offer, you can embark on a journey through the green hills of the Marche region. We suggest you visit Rocca di Colonnalta , the monastery of San Liberato and Abbazia delle Macchie. If you are looking for typical dishes we recommend tasting the famous " polentone " of San Ginesio, which is prepared with local corn and a very good meat sauce.