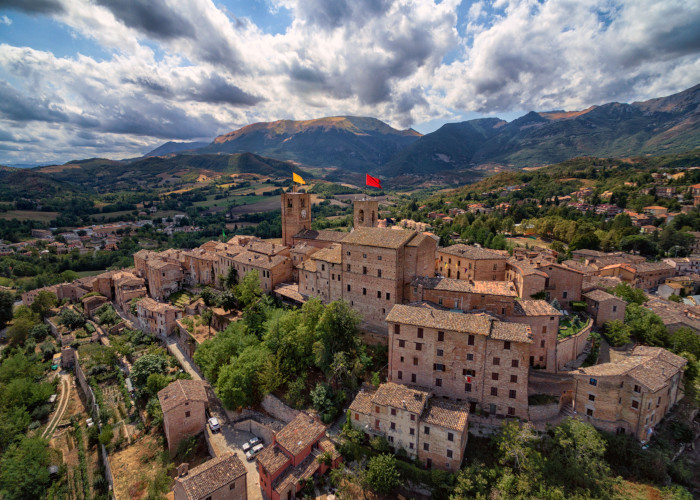 Sarnano
Pubblicato da Redazione Best Of The Apps
Imagine you are flying over the village of Sarnano. You can admire a spectacle of red houses made of bricks up to the roof; houses that chase one another in ever-closer circles with two towers looking at them from above. Then you can see streets that intertwine until they reach the main square.
From this perspective it is possible to notice the typical medieval castrum shape, respected in the successive expansions of the original settlement during which the original walls of Sarnano widened. The old doors have been closed, new walls – four of them – have been built to accommodate more houses inside them, and therefore new doors have been opened.
The Municipality of Sarnano was founded in the second half of the thirteenth century. However, the history of this place is even more ancient. It is linked to the Italic people who settled here before the Roman age.
The toponym of Sarnano could be traced back to that period. According to one feasible etymology, the name could have Etruscan roots and would be connected to the location of the village between two rivers. On the other hand, a popular tradition says that the name "Sarnano" derives from the name of the Italian god Silvano, adored by shepherds and peasants of the time. Finally, the Latin hypothesis is the most accredited one: Sarnus was a veteran soldier of the emperor Augustus who owned these lands.
Sarnano is rich in artistic jewels hidden in the reddish walls of town as if they were small pearls. La Madonna Adorante il Bambino by Vittore Crivelli, the centrepiece of the civic art gallery is definitely worth mentioning.
However, Art in Sarnano is not only on canvas but also in stone. In fact there are many churches in the village, among which an abbey at the foot of Mount Sassotetto stands: Santa Maria di Piobbico, dedicated to San Biagio. This church contributed greatly to the civic and artistic development of Sarnano.
Unfortunately it is, like some other attractions in the village, unusable today because of the earthquake of October 26th and October 30th 2016. It is still worthwhile to visit Sarnano, get lost in its red streets and enjoy the atmosphere of this typical village in Marche. It has much more to offer than it seems.