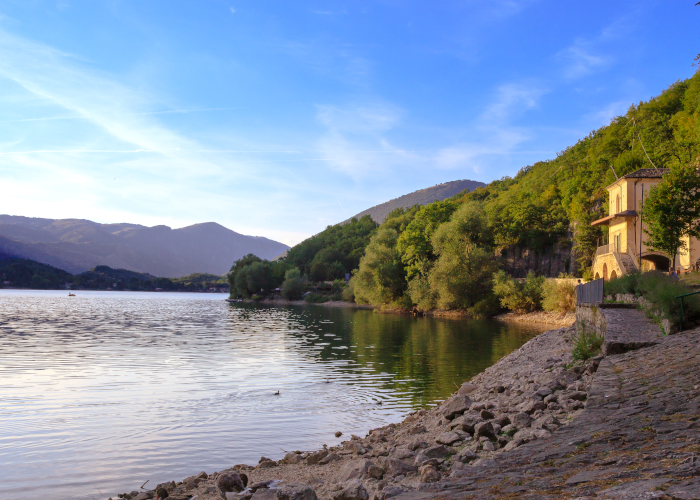 Scanno
Pubblicato da Redazione Best Of The Apps
The village of Scanno seems to have been taken and placed in Valle del Sagittario (the Valley of Sagittarius) by a giant. At least, this is the impression we get in the village, a place surrounded by ancient atmosphere and more often by thick fog. A village where you can taste some of the best typical products of Abruzzo. It is perfect for all those who love taking pictures of landscapes. In fact, Scanno is the "village of photographers", one of the most "photogenic" places in Italy!
There is also a "Photographers´ Street" where you can admire Scanno in all its beauty, enclosed in narrow streets, with houses that embrace and support each other. It is not just an impression: the houses in Scanno were built in rows, close to each other, to protect those who lived there in the winter frosts. Even the windows are narrow to be suitable for watching passersby but small enough to prevent the cold from entering.
Walking through the streets of Scanno, we can see the artisans at work in their shops, from goldsmiths to stonemasons. If we are lucky, in the summer months we can see some women sitting on cemmause spinning wool or bobbin lace , a lace used to decorate precious fabrics. But what is "cemmause"? it is a step in a flight of stairs typical of Scanno, built to facilitate access to the house when the snow envelops the village. These steps have become a meeting point for housewives and women spinning.
Going down from Scanno towards Valle del Sagittario, which flows with its emerald-green waters, we walk up to Lake Scanno. Famous for its shape of heart, the lake attracts not only holidaymakers in search of relaxation but also sports fans and birdwatchers (did you know that you can admire moorhens, mallards and beautiful specimen of heron there?). Like all ancestral places, Lake Scanno is also linked to a legend: it seems that a sorceress named Angelina created it to form a barrier between her and her enemies!
After a walk around the heart-shaped lake, we can go back to the village and taste some typical products of Abruzzo. The dominating products here are the products made from sheep, an animal that, together with Scanno's women and men, has shaped its history. You can taste some ricotta and pecorino cheeses. Those with black rinds are the most traditional ones. Also roast lamb and arrosticini (Italian barbecued lamb skewers) can be tasted here. Scanno offers us some very good first courses as well. We recommend sagne pasta with beans and ricotta cheese, and cazzellitti – elongated gnocchi (dumplings) seasoned with fuoja , a local vegetable. We are moving on to dessert now: the most famous dessert of this town is pan dell'orso (bear's bread). It is a small sweet dome-shaped cake, enriched with honey and covered in dark chocolate: the pure goodness!